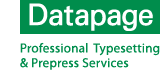 Careers

- A Progressive Company

Datapage is a top-rate employer that applies international standards of respect, reward and motivation to the workplace.

We are always on the look-out for talented, outstanding and innovative people to join our team. If you feel you would fit the description of any of the vacancies below or even if you'd just like to be a part of this great team, mail us your personal profile and we'll get in touch with you.
Our cordial working conditions, employee friendly policies, and motivational schemes make the company a remarkable place to work.